Indian media is being widely condemned for its 'gross' and 'reprehensible' coverage of Bollywood star Sridevi's death, which has sparked a backlash on social media.
Initial rumours suggested that Sridevi had suffered a cardiac arrest. A post-mortem report later said the superstar died of accidental drowning in a hotel bath in Dubai.
Following the news of the actor's death, TV channels in India began covering the tragedy relentlessly, with some news programmes stooping to new lows in their race for ratings.
Some ways Indian media made a mockery of Sridevi's death:
Repugnant simulations 
Much of the criticism over Indian journalism has focused on their use of onscreen graphics and recreations to simulate the scene of Sridevi's death.
One channel decided to recreate the scene of her death, even placing their reporter beside the bathtub plastered with 'Maut Ka Bathtub':
Another channel had an anchor standing in front of a bathtub with a large glass of red wine on the side.
One TV channel recreated an image of her husband, Boney Kapoor, standing over the bathtub where Sridevi, dressed in all white, lay.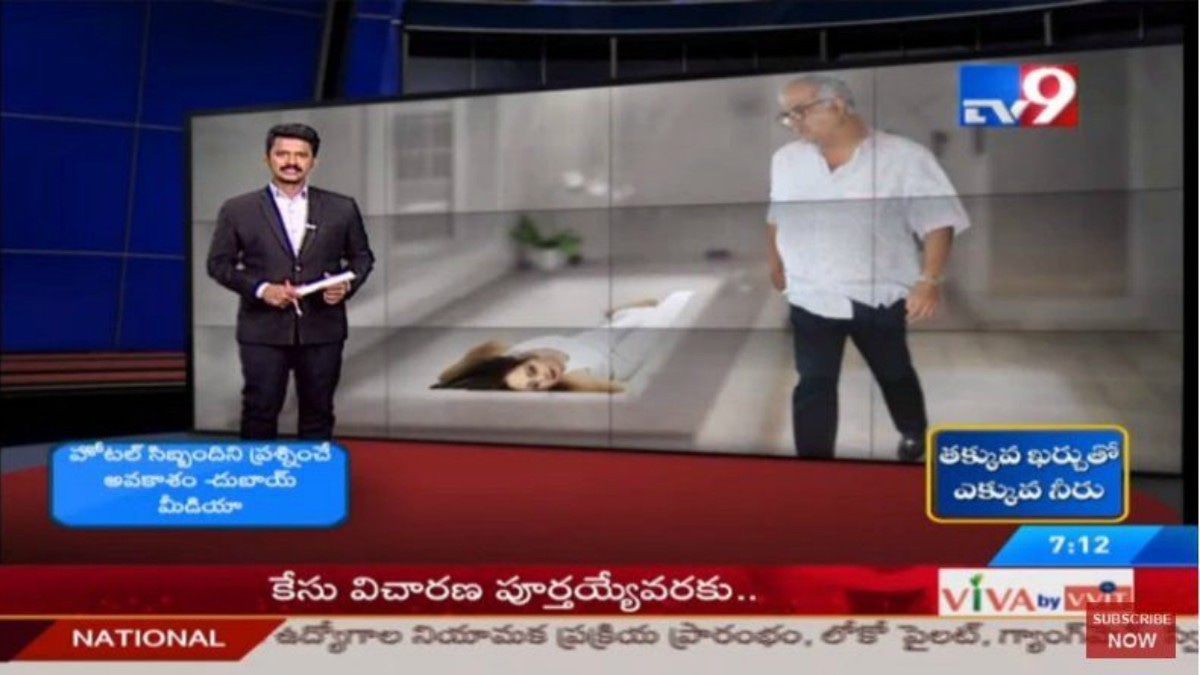 One news station decided to do things a little differently. Instead of using simulations, it placed a reporter inside a real bathtub to enact her death.
Angered Twitter users started a hashtag #LetHerRestinPeace in response to the local media's "ghoulish" coverage of her death.
Alternative conspiracy theories 
Some channels didn't just stop at the simulations. They actively encouraged social media users to speculate on the cause of Sridevi's death using the hashtag #SredeviDeathMystery.
Instead of waiting for the official post-mortem report, 'analysts' hotly debated rumours of her consuming diet pills, having weight reduction surgery, adhering to a strict diet, and other possibilities on their prime-time shows. 
When the forensic report revealed that there were "traces of alcohol" in Sridevi's blood, it was enough to feed the media frenzy. In one prime-time panel discussion, an editor of a top channel wondered whether she drank vodka, some cocktail or wine.
Social media users later started trending their own hashtag #NewsKiMaut (The Death of News) to vent their anger.
Unnecessary analysis
Sridevi's death also attracted a lot of unnecessary analysis which made no sense. In her article on Indian media coverage of the actor's death, Barkha Dutt notes that news anchors discussed "whether a trained dancer could lose her balance in the bathtub" and "whether Indians get any of this, because, you see, we mostly use the shower — or bathe from buckets and don't have a "bathtub culture."
Born Shree Amma Yanger Ayappan in the southern state of Tamil Nadu, Sridevi appeared in around 300 films and was awarded the Padma Shri — India's fourth highest civilian award — for her service to the film industry.
Sridevi made her acting debut at the age of four and her career spanned more than four decades.
She worked in India's regional Tamil-, Telugu-, and Malayalam-language films before making her Bollywood debut in 1979, becoming a national icon with a string of blockbuster films, including Chandni, Mr India, Mawali and Tohfa.
Sridevi famously took a 15-year-break from the silver screen after marrying film producer Boney Kapoor but returned in 2012's hit comedy-drama English Vinglish.
Her most recent film was last year's Mom.