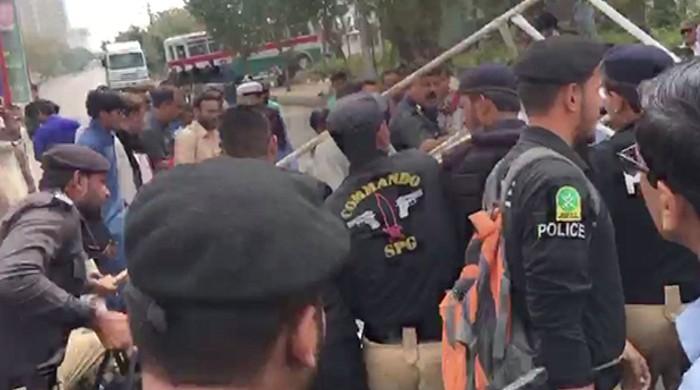 KARACHI: In an attempt to be heard amid lawmaker's bustle inside and outside the Sindh Assembly on Saturday, people with disabilities carried out a protest yet again demanding increase in the job quota reserved for them.
During the demonstration, two protesters fell unconscious while some also got into an altercation with the police deployed in the area.
People with disabilities carry out protest at the same site demanding an increase in the job quota – from 2% to 5%.
A similar protest was held in November 2017 when protesters tried to enter the Sindh Assembly premises.
The protest had turned chaotic when two demonstrators were injured while pushing their way forward towards the assembly amid resistance from the police.
Increase in job quota for people with disabilities was announced in December 2016 by Sindh Chief Minister Syed Murad Ali Shah.
The chief minister made the announcement while speaking to a delegation of a welfare organisation for disabled people.
The meeting had taken place after people with disabilities gathered outside the CM House to mark the United Nations' International Day of Persons with Disabilities.
The people with disabilities in most parts of the country are faced with many difficulties when it comes to jobs.
In February, job interviews were arranged for the people with disabilities in Hyderabad but no facilities were in put in place to help them reach the interview rooms that were situated on the upper floor of the building.
Protesters complained as there was no elevator to take them up the stairs, while they were helped by their attendants and personnel deployed at the site.