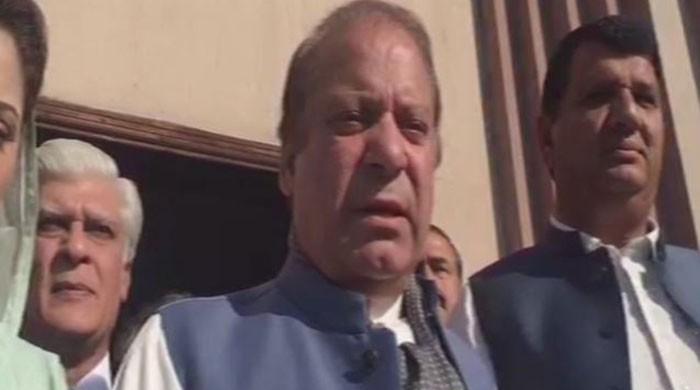 ISLAMABAD: Former prime minister Nawaz Sharif spoke on Monday against the recent decision of the Supreme Court barring his party members from contesting any elections as Pakistan Muslim League-N candidates. 
Speaking to the media outside the accountability court hearing corruption cases against him, Nawaz complained that in Saturday's Senate elections, lawmakers had difficulty recognising PML-N candidates since they were contesting as independents without any party symbol. 
Nawaz for end to horse-trading 
Talking about the Senate elections and some parties bagging seats without substantial representation in the provincial assemblies, he said, "this shows rigging".
"It is crucial to get to the bottom of this. This system should change. This game of money should be buried. This has happened in the past but this time it was too open and brazen," he said, referring to allegations of horse-trading in the Senate elections. 
Talking about the party's victory in Sunday's by-election in Sargodha, the disqualified PML-N president commended the party's victory with around 20,000 votes, saying "will they erase us by snatching our symbol?" 
"This should serve as an eye opener…the more injustice that is meted out to us the bigger the public reaction and support for PML-N," said Nawaz, adding that people are now aware and feel that the PML-N's stand is correct. 
"Now the people are saying this — 'respect the vote'," said Nawaz, referring to his oft-repeated slogan since his disqualification in July last year. 
'Public is getting smarter'
The three-time premier asserted that the people of Pakistan are not a herd of cattle that can be steered to any direction. 
"I am pleased to see that the public is getting smarter and is revolting. They should be. Their elected leader was thrown out by four-five people without reason," he said, adding that he did not murder or rob anyone, is not a drug smuggler, a 'Godfather or Sicilian Mafia'. 
Nawaz said it is important to stand up to injustice, stating that "this is my country and your country".
He said further that the time for directing the 'herd' has passed, claiming that "they are declaring me disqualified but the people are accepting me even more". 
"One has to call a spade a spade," he said further, adding that "what's wrong is wrong".